A new start-up created from relevant experience
SOLSA DEM'UP
EIT Raw materials project designed to bring to market the SOLSA expert system 
Itaque verae amicitiae difficillime reperiuntur in iis qui in honoribus reque publica versantur; ubi enim istum invenias qui honorem amici anteponat suo? Quid? Haec ut omittam, quam graves, quam difficiles plerisque videntur calamitatum societates! Ad quas non est facile inventu qui descendant. Quamquam Ennius recte
INEL INNOV
Creation of a start-up specifically dedicated to the study, production, marketing of in-field combined instrumentation.
Inel Innov proposes expert combined systems, designed to assist the raw material exploration and exploitation industrial sectors. The objective is to carry out, in real time and on-site, chemical and mineralogical mapping. The development of Inel Innov's activity will complement the portfolio of solutions enabling France to move towards its independance in terms of strategic materials.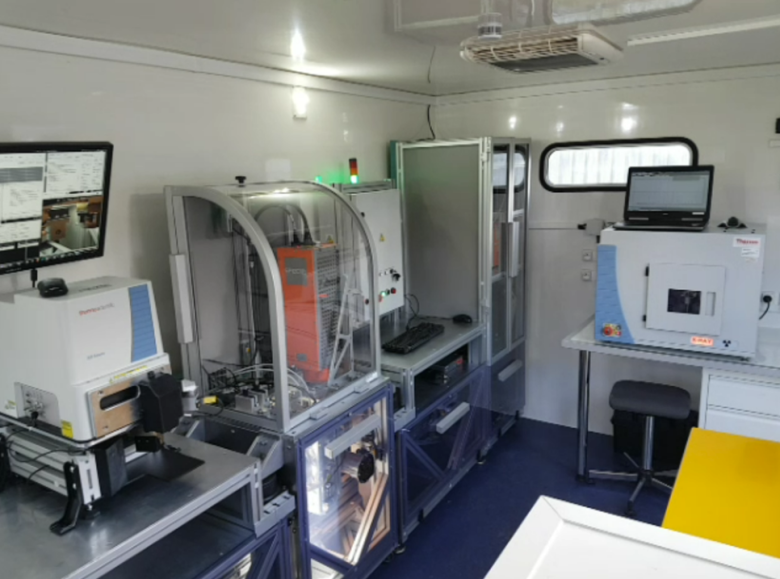 Inside the Modulab, the mobile field analysis laboratory, showing the core analysis instrumentation scanner and benchtop analyser
SOLSA DEM'UP
EIT Raw materials project designed to bring to market the SOLSA expert system 
Itaque verae amicitiae difficillime reperiuntur in iis qui in honoribus reque publica versantur; ubi enim istum invenias qui honorem amici anteponat suo? Quid? Haec ut omittam, quam graves, quam difficiles plerisque videntur calamitatum societates! Ad quas non est facile inventu qui descendant. Quamquam Ennius recte
INEL INNOV
Création d'un start-up dédié à l'étude, la production, et la commercialisation de l'instrumentation combinée sur-site??
Inel Innov propose des systèmes combinés experts, capable d'assister les secteurs industriels d'exploration et d'exploitation des matériaux. L'objectif, réaliser une cartographie minéralogique et chimique en temps réel sur le terrain. Le développement de l'activité d'INEL INNOV s'intégrera dans la proposition de solutions permettant à la France d'aller vers une forme d'indépendance en matériaux stratégiques.
Spécialisations
XRD, XRF, Raman, Convoyeur, Vision, Minéralogie, Analyse élémentaire, Analyse chimique, Aide à la décision, Instrumentation, Hyperspectral, Fusion de données et Matrice de corrélation
Contact Inel Innov
Henry Pillière, CEO and R&D Director